You may think that glass drop earrings are going to be heavy, but the vast majority of these Warehouse-find Czech earrings are actually feather-weight. Most skeptical customers have been shocked to find out how light they are.

Some women are sensitive to weight, yet they find this collection to be remarkably light and comfortable to wear.

But any sort of weight is a problem for many. For those of you who have given up on wearing earrings other than 'studs' because you have Slits, rather than Holes in your lobes, from wearing heavy earrings too much – you will be thrilled to learn of this wonderful product –
LOBE WONDER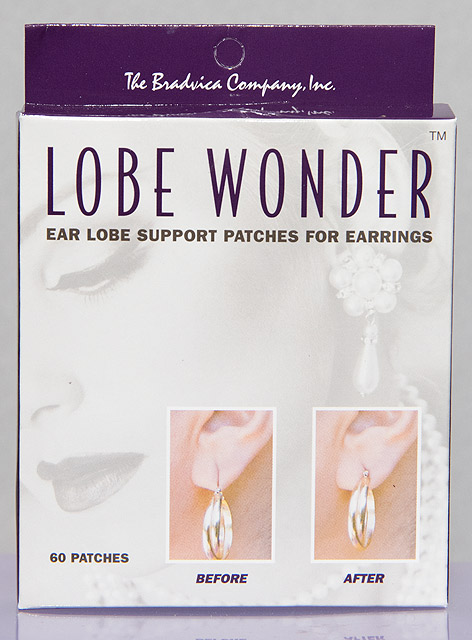 We were turned on to this amazing product and we highly recommend it for those women for whom earrings have been shelved because of slit issues. For example, many women have slits that extend almost to the very bottom of their lobes, because of having their piercing done too low, or wearing heavy earrings over time (or both). They are not going to have that expensive surgery to repair their lobes, and thus just go without wearing dangle earrings altogether…but NO LONGER! Here's awesome news for you ladies!

LOBE WONDER are surgical tape patches that you stick behind your lobe. The patch spreads the weight of earrings throughout the lobe, rather than just on the slit, and the result is a firmer-looking and almost back-to-normal hole! The earring sits higher on the ear, and the weight is dispersed away from the hole -- it's like an instant Lobe-Lift!!!

You place the tape-patch behind the earlobe, and then put your earring through the hole and patch, and voila! You'll not believe the difference!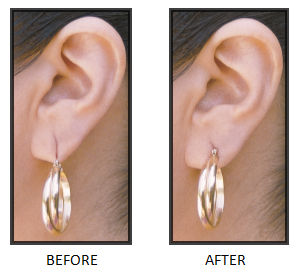 The tape is surgical grade and will not irritate the skin. They are totally invisible when in place and working!

You can buy LOBE WONDER at Walmart and online on Amazon.com. A box of 60 pads (and you can wear a pair for several days) costs about $7.00.

LOBE WONDER is truly a fantastic product! You'll be able to wear any earrings you desire and love.

See this demonstration on Youtube:
http://www.youtube.com/watch?v=QJeKZ0WgFgY

And go to:
www.lobewonder.com