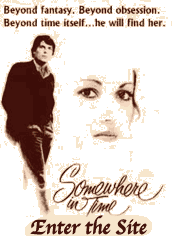 Welcome to the Official Somewhere in Time Website; home of the International Network of Somewhere In Time Enthusiasts, INSITE, and Somewhere in Time Collectibles.
We have so much to share with you on this unforgettable time travel story about a love so strong, it can overcome the obstacle of Time itself. . . Photo Galleries, Event Coverage, a Trivia Challenge Game, important in-depth Articles, and more, designed to deepen your appreciation for Somewhere in Time. Be sure to frequently visit the NEWS Section for the latest info--the section that is most often updated!
You're invited to join the fan society, INSITE, to receive our elegant quarterly magazine covering all aspects of the film and its creators. We've published over 2,000 pages on this cinematic treasure since 1990, and hold annual SIT Weekends at Grand Hotel! Experience the incredible fun we've been having celebrating The Most Romantic Love Story Ever Filmed.
This website is produced by Jo and Jim Addie - Jo worked on Somewhere in Time for 3 glorious weeks, has been friends with Christopher Reeve and Jane Seymour since, and is President of INSITE. She and Jim have produced eight SIT Event DVDs chronicling Somewhere in Time's legacy, featuring SIT Celebrities. Through this website, Jo provides a rare and fascinating glimpse into the behind-the-scenes world of this unforgettable film..